VoIP Phone Systems in Tucson, AZ
At Intelus, we provide managed voice and VoIP Phone Systems for businesses in the Tucson, AZ area.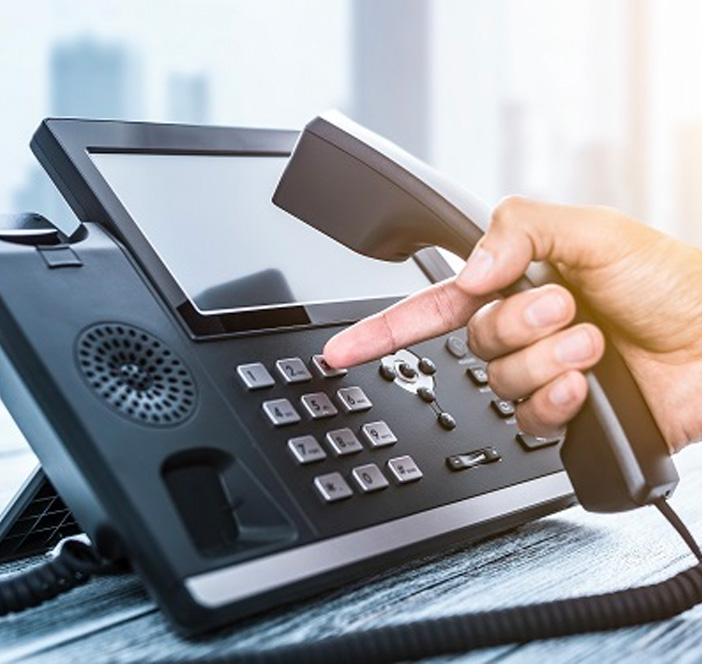 VoIP Phone Systems
Intelus provides managed voice and VoIP Phone Systems for businesses. We are a Yealink VoIP Phone authorized dealer and integrator of astrick – based business PBX Phone Systems.
VoIP Definition: Voice over Internet Protocol (VoIP) technology refers to a series of transmission capabilities that make communication over the Internet securely. VoIP also known as Internet telephony, converts voice vibrations to compressed digital signals that translate to Internet Protocol (IP) packets. These IP packets are then transmitted and converted to a regular telephone signal if the user has a regular telephone. VoIP allows computer users and businesses to make telephone calls from a desktop computer equipped with a  Yealink VoIP Phone. Internet telephony offers services and benefits unparalleled by traditional phones.
3 Main Advantages of VoIP Phone Systems
Increased Flexibility and Mobility
Increased Productivity
75% Less Than Traditional Phones and Expandable Without Upgrading Hardware
Citrix Phone Systems
Citrix is a digital workspace platform that gives employees everything they need to be productive in one unified experience while arming IT with the visibility, simplicity, and security needed to enable and control it all.
Since 1989, Citrix has made it easier for people to access the applications and content they need to do their very best work – wherever and whenever work needs to get done. Today, more than 100 million users across 400,000 organizations – including 99% of the Fortune 500 – trust Citrix to power a better way to work.
We deliver digital workspace, networking and security, and analytics technologies to help you. Learn more.
Yealink Phone Systems
The industry's leading provider of VoIP phone and IP communication solutions.
Companies choose Yealink to ensure that when their workforces are widely-dispersed geographically they can still communicate clearly and productively over long distances. Yealink makes sure that people are able to connect and co-operate easily from their desktops, classrooms, meetings, conferences and mobile devices. A wide variety of public and private-sector industries rely upon us to provide standard-based solutions that:
Deliver a fast return on investments from teams that are in instant person-to-person contact wherever they happen to be
Cut the time, costs, and carbon emissions associated with bringing together the right people to solve key problems
Save businesses valuable resources, energy and unproductive journey times in today's busy economy. Yealink makes good business sense.
3CX Phone Systems
3CX is an open-standard, software based PBX that works with popular IP Phones, SIP trunks and Gateways. It's a complete Unified Communications solution, which includes features such as web conferencing, presence, softphones, smartphone clients and more – without the inflated cost and management headaches of an 'old style' PBX.
Setup takes minutes and 3CX will run on an existing server (not necessarily dedicated).
Plug and Play with IP Phones, Gateways & SIP Trunks
No per extension licensing
Virtualize or Install on Existing Server
Avaya Phone Systems
Avaya provides a complete portfolio of business phones and communications endpoints. Avaya offer devices for use at desks, in conference rooms, and across campuses. They support in-office, mobile, remote, and video users. Learn more.
Have a question or have customer feedback? Send us an email. We respond to all customer feedback and look forward to hearing from you!
1325 N Wilmot Rd Floor 2, Suite 200
Tucson, AZ 85712